"There's only one corner of the universe you can be
certain of improving, and that's your own self."
—Aldous Huxley, author and pupil of F.M. Alexander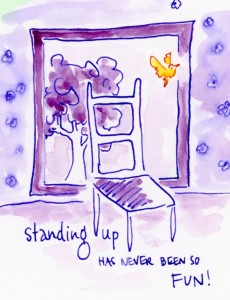 Developed by F. M. Alexander, the Alexander Technique is an educational method used worldwide for over 100 years. By teaching how to change faulty postural habits, it enables improved mobility, posture, performance and alertness along with relief of chronic stiffness, tension and stress.
In 2008 the results of a major back pain study were published in the British Medical Journal. The study showed that the Alexander Technique was highly effective in treating back pain. Watch the video on the Alexander Technique page for more information.
Katie Fittipaldi teaches individual Alexander Technique lessons and group workshops in Rochester, New York. Please contact Katie for more information or to book an appointment.
---
with Katie Fittipaldi
Interested in a fun and intensive AT course just for Musicians?
Click here to find out more about my week-long course that is offered at  Eastman School of Music in Rochester New York, June 24-28 or July 8-12, 2019.
A wonderful week of Alexander Technique!
Reflections from the 2017 Summer Intensive – Eastman School of Music
---
Illustration by Margaret Coote.